Un nuovo triangolo al GF Vip dopo la telenovela tra Alex Belli, Delia Duran e Soleil Sorge che ha caratterizzato la passata edizione del reality show condotto da Alfonso Signorini.
Asia Gianese pronta per entrare al GF Vip: 'Non vedo l'ora di dire quanti scheletri ha il fidanzato di una tronista'
Il possibile al GF Vip intreccio parte da una Stories di Asia Gianese: "Non vedo l'ora di dire quanti scheletri nell'armadio ha il fidanzato di una tronista di tre anni fa". Secondo The Pipol nel mirino dell'influencer, che ha indirettamente confermato i rumors sul suo ingresso nella casa più spiata dagli italiani, ci sarebbe Andrea Del Corso, fidanzato di Teresa Langella, ex tronista di Uomini e Donne.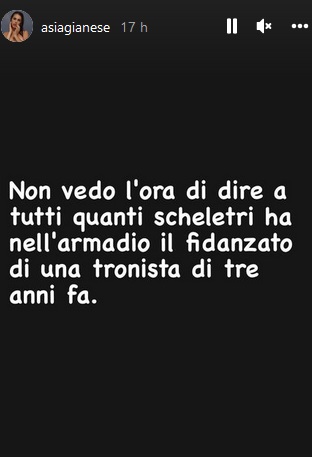 L'indiscrezione di The Pipol: la stoccata dell'influencer sarebbe rivolta a Teresa Langella e Andrea Del Corso
Quest'ultima è tra le possibili protagoniste del Grande Fratello Vip 7 dove potrebbe scontrarsi con Asia Gianese che pare avere un conto in sospeso con il partner della napoletana. Nel caso le indiscrezioni fossero confermate all'interno della casa si potrebbero creare dinamiche dai risvolti clamorosi.